Frequently Asked Questions
What are Cloudy Lane Bars?

Imagine all the mouth-watering goodness of a regular baked treat, but without any of the gluten or dairy that leave you feeling bloated and tired.

Cloudy Lane bars were designed to be satisfy sweet tooths and keep hunger at bay no matter where you are.
What makes Cloudy Lane Bars so special?

All our products are dairy-free, gluten-free, soy-free, non-GMO and free of preservatives and anything artificial.

On top-of that, Cloudy Lane products taste way better than other "health" products that try and cut corners.
How long do Cloudy Lane Bars stay fresh for?

Because we don't use harmful preservatives or anything artificial, Cloudy Lane Bars stay fresh for about 150 days when refrigerated. If you're on-the-go, not to worry, Cloudy Lane Bars stay fresh for 10 days outside of the fridge.
Does Cloudy Lane offer free shipping?

Absolutely! Cloudy Lane offers free shipping all over the United States to customers who spend over $75.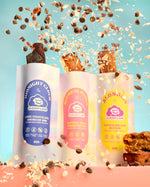 Made with love.